Wybory prezydenckie w USA 2020 roku , czyli pojedynek urzędującego prezydenta Donalda Trumpa z Joe Bidenem z Partii Demokratycznej , zostaną zapamiętane na długie lata. Wygrał Biden , ale czy na pewno wszystko odbyło się uczciwie ? Najwięcej zastrzeżeń budzi głosowanie korespondencyjne , które jeszcze przed wyborami , w debacie telewizyjnej , Trump nazwał fałszowaniem wyborów. Intuicja go nie zawiodła. Podejrzana jest niewiarygodnie wielka ilość tych listownych głosów na Bidena , z których wiele wysłanych dwa tygodnie przed wyborami nadeszło do komisji wyborczych dzień lub dwa po wyborach i zostały policzone jako ważne. Na Bidena głosowało również tysiące nieboszczyków. Nawet w Rosji i Białorusi nie było takich numerów.
Teraz będzie kilka procesów sądowych i awantur , ale to nie zmieni rzeczywistości . Od 20 stycznia 2021 roku 46. prezydentem Stanów Zjednoczonych będzie Joe Biden , a wiceprezydentem pani Kamala Harris. Biden to wieloletni senator oraz wiceprezydent u boku prezydenta Baracka Obamy. Wcześniej dwa razy przegrał wybory prezydenckie w 1988 i 2008 roku. Udało się mu za trzecim razem.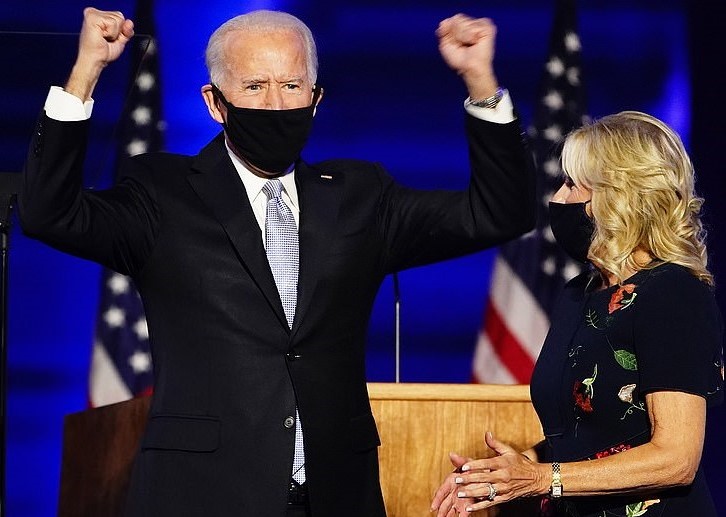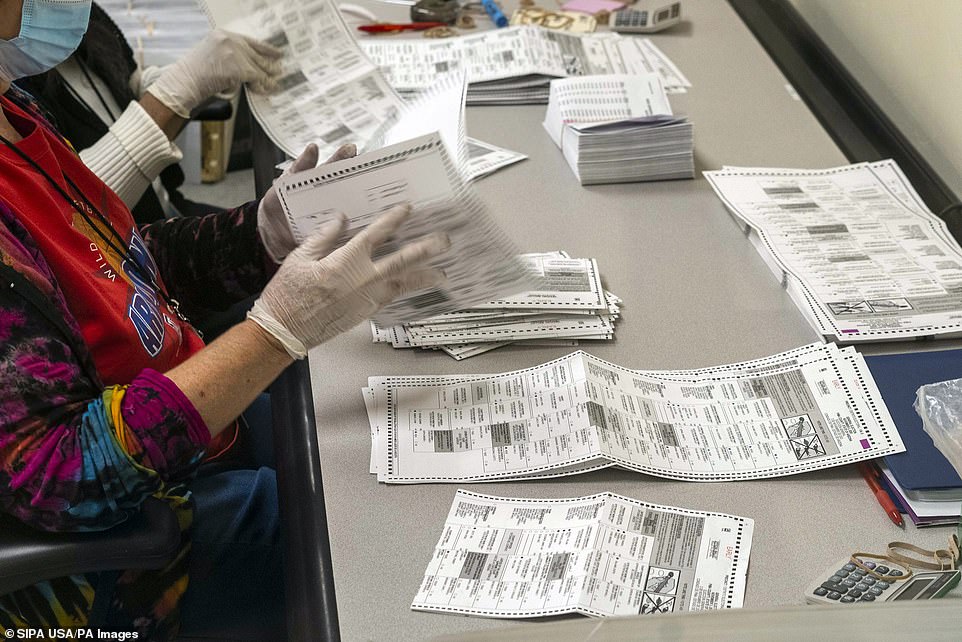 100 milionów głosów oddano pocztą.
Frekwencja wyborcza była rekordowa. Głosowało ponad 150 milionów Amerykanów. Głosy rozłożyły prawie po równo na Bidena i Trumpa. Z powodu pandemii koronawirusa ponad 110 milionów głosowało przedterminowo. Część zrobiła to osobiście , ale większość , czyli około 100 milionów , zagłosowała korespondencyjnie. To było niestety także pole do wielkich nadużyć , a w ten sposób głosowali głównie zwolennicy Bidena i Partii Demokratycznej. Ta nazwa zresztą jest już nieaktualna i myląca , bo to już jest tak naprawdę partia skrajnie lewicowa , neomarksistowska , a kilka frakcji tej partii to komuniści. Mają ochronę lewackich korporacji medialnych od Facebooka i Twittera do New York Timesa i CNN.
Korespondencyjne "tsunami" poparło Bidena.
W wielu kluczowych stanach prezydent Trump prowadził zdecydowanie i wydawało się , że już wygrał wybory. Ale nagle ta przewaga zaczęła gwałtownie topnieć , kiedy zaczęto liczyć głosy korespondencyjne. To było lewicowe "tsunami". W ciągu kilku godzin Bidenowi przybyło lawinowo kilka milionów głosów głosów , a licznik Trumpa stał w miejscu. Biden nagle z outsidera błyskawicznie został liderem. Największe takie "cuda" działy się w stanach zarządzanych i kontrolowanych przez Demokratów , bo ustalanie przepisów prawa wyborczego należy do władz stanowych. Czyżby tylko wyborcy Bidena lubili wysyłać listy do komisji wyborczych ?
Dziennikarz Wojciech Cejrowski napisał: "W Michigan "odnaleziono" 138 339 dodatkowych głosów na Bidena i ZERO na Trumpa. Takich przypadków nie ma. Gdyby coś zginęło naprawdę , to byłyby tam głosy na wszystkich kandydatów". "W Winsconsin oddano o 110 tysięcy głosów więcej niż liczba wszystkich osób zarejestrowanych w spisie wyborców. To tam Biden jeszcze w nocy przegrywał , a rano cudem odzyskał prowadzenie po przeliczeniu głosów korespondencyjnych".
Łamanie prawa przez wyborców Bidena.
W Internecie można znależć setki wpisów wyborców Bidena , którzy chwalą się , że głosowali korespondencyjnie za kilka osób ze swojej rodziny , sąsiadów i znajomych. Bez skrępowania przyznają się do złamania prawa wyborczego. Wysyłali kilkanaście , a czasami nawet kilkadziesiąt listów. To w ogóle jest podejrzana sprawa , że sympatycy Bidena z największych amerykańskich miast , mając lokal wyborczy tuż za rogiem , głosowali korespondencyjnie. Woleli iść na pocztę i wysłać listy. Wyborcy Bidena oddawali głosy pod nazwiskami nieżyjących wyborców. Żaden zmarły nie głosował na Trumpa – wszyscy wyłącznie na Bidena. To w sumie mogło być kilkaset tysięcy nielegalnych głosów na Bidena , który w kilku stanach wygrał minimalnie różnicą zaledwie kilku tysięcy głosów. Te głosy mogły przeważyć szalę na jego korzyść . Przypomina to wybory w Rosji i na Białorusi.
Anty-Trumpowska cenzura lewicowych mediów.
Prezydent Trump , na Twitterze , poddawał w wątpliwość uczciwość liczenia głosów w kilku kluczowych stanach. Media społecznościowe są w rękach ludzi o lewicowych poglądach , więc cenzorzy Twittera natychmiast skasowali wpisy. Facebook masowo kasuje wpisy republikańskich wyborców Trumpa kwestionujących legalność wyborów. Aż w końcu Twitter i Facebook zawiesiły konta Donalda Trumpa. Niebywałe. Telewizje MSNBC i CNBC przerwały transmisję z przemówienia Trumpa , ponieważ nie podobała im się ich treść (!?). To cenzura taka sama jak w Związku Sowieckim.
Sondażowe przekręty.
Amerykańskie lewackie sondażownie dawały przed wyborami miażdżącą wygraną Bidena. Jego przewaga na Trumpem wynosiła ponad 12 procent. W rzeczywistości Biden wygrał minimalnie. Klęska sondażowni to nie przypadek. Pracownie badań społecznych zamiast prowadzić rzetelne sondaże , realizują zlecenia propagandzistów takich jak telewizja CNN czy New York Times. Publikowane sondaże okazały się kompletną bzdurą.
Sądy stanowe za Bidenem i demokratami.
Prezydent Trump chciał , aby głosy "cudownie odnalezione po zamknięciu lokali" i głosy zmarłych anulować. I tu jest gigantyczny problem. To poszczególne stany organizują wybory , a w stanowych sądach rządzą niepodzielnie demokraci. Ludzie Sorosa są we wszystkich kluczowych okręgach wyborczych – wszędzie tam gdzie była potrzebna lewacka interwencja. Soros oficjalnie się tym chwali , że to są jego stypendyści. Dlatego szanse Trumpa na zwycięstwo w sądach były żadne.
400 mln dolarów Zuckerberga.
Mark Zuckerberg – właściciel Facebooka i wyborca Bidena – wsparł kwotą 400 milionów dolarów lokalne samorządy na obsługę wyborów , a więc także liczenie głosów – jak donosi portal Observer. A uczciwość tej "obsługi" kontestowało 75 procent wyborców Trumpa. Jakże to hojny i z pewnością zupełnie bezinteresowny gest miliardera.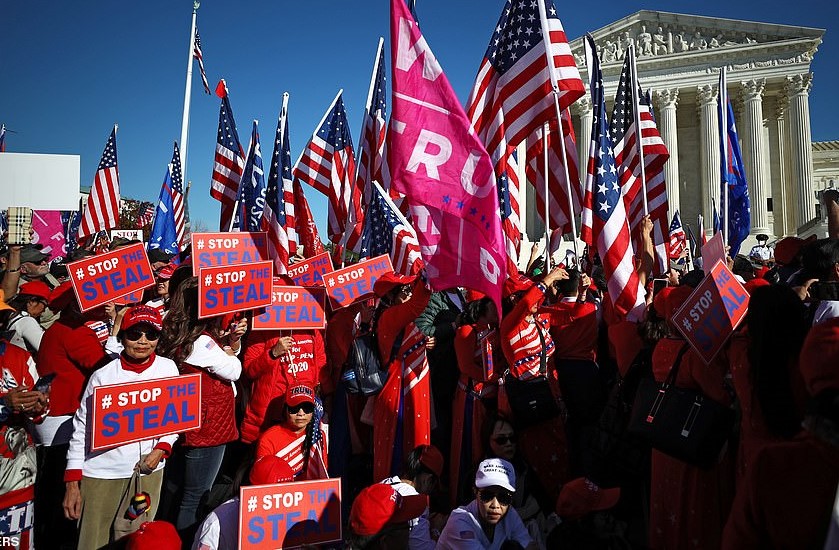 Kto naprawdę będzie rządził w USA ?
Z wielu wpisów w Internecie i wywiadów wpływowych ludzi w USA można domniemywać , że to wiceprezydent Kamala Harris będzie tak naprawdę rządzić w USA. Wujek Joe , jak mówią żartobliwie o 78-letnim Bidenie , będzie pełnił funkcje reprezentacyjne. Kim więc jest Kamala Harris ?
Kamala Harris to lewicowa senator z ramienia Partii Demokratycznej. Wcześniej była prokuratorem w stanie Kalifornia. Jest żoną żydowskiego prawnika Douglasa Emhoffa i macochą jego dwójki dzieci. Ma radykalnie lewicowe poglądy , jest agresywna i mocno związana z organizacjami feministycznymi i LGBT. Właściwie to komunistka. Pochodzi z zamożnej rodziny. Ma hindusko- jamajskie pochodzenie. Często wykonuje działania sprzeczne z jej poglądami. Na przykład , okazało się , że ma broń , choć nawołuje do wprowadzenia zakazu jej posiadania. Jej szef , Joe Biden , już teraz zapowiada , że planuje rządzić tylko jedną kadencję , więc otwiera się przed nią wielka kariera. Już jest idolką radykalnej lewicy , ruchów LGBT i czarnoskórych Amerykanek. Zamierza powiększyć skład Sądu Najwyższego o sześciu lewicowych sędziów , aby lewacy przejęli kontrolę nad najważniejszym sądem w USA.
Sąd Najwyższy w USA. Gigantyczna władza.
Co to oznacza dla Polski ?
Pogorszą się relacje polsko-amerykańskie. Lewicowa administracja Bidena bardzo dużo uwagi w stosunkach z Polską poświęci sprawom ideologicznym , LGBT , rzekomym łamaniem praworządności i oczywiście antypolskiej ustawie 447. Będą się częściej wtrącali w nasze sprawy , a ich "ekspertami" będą polskojęzyczni lewacy znad Wisły.
W debacie telewizyjnej przed wyborami Biden powiedział : "Widzicie, co się dzieje. Wszystko od Białorusi po Polskę… po Węgry i powstanie totalitarnych reżimów na świecie. Poza tym ten prezydent (Trump) obejmuje się ze wszystkimi zbirami na świecie" . Czyli , dla Bidena Polska i Białoruś to ten sam reżim totalitarny. Naprawdę to powiedział. Nie najlepiej to świadczy o jego poziomie intelektualnym.
Informatorzy Bidena.
Biden opowiada takie bzdury , ponieważ ma co najmniej cztery swoje "wiarygodne" żródła informacji o Polsce. Pierwsze , to Anne Applebaum – pochodząca z wpływowej zamożnej żydowskiej rodziny , lewicowa komentatorka polityczna skrajnie lewicowej gazety "Washington Post" i prywatnie żona Radosława Sikorskiego – polityka Platformy Obywatelskiej i fanatycznego przeciwnika rządu Prawa i Sprawiedliwości. Drugie "wiarygodne" żródło to Adam Michnik i jego środowisko Gazety Wyborczej utrzymujące bliskie kontakty z lewicową tubą propagandową Demokratów gazetą " The New York Times". Trzeci "wiarygodny informator" to Donald Tusk , który już zaczął atak wyrażając nadzieję , że wybór Bidena to koniec radykalnego populizmu w Polsce. Czwarty informator to Agnieszka Holland , która w wywiadzie dla Onetu powiedziała : "o narastającym faszyzmie w Polsce i o tym , że czekają Polaków prześladowania i obozy koncentracyjne". Znajdą się jeszcze inni "przyjaciele" Polski. Polska lewicowa opozycja jest już słynna w całej Unii Europejskiej ze swojego donoszenia na własny Kraj. To jej znak rozpoznaczy . Teraz poszerzą swoją działalność o USA.
Ustawa 447 na celowniku administracji Bidena.
Na pierwszy plan wysunie się amerykańska ustawa 447 , czyli bezdziedziczne mienie po Żydach w przedwojennej Polsce , które jest warte kilkaset miliardów dolarów. Tą kasę chcą zgarnąć wpływowe żydowskie organizacje w USA. Tu pójdzie główne uderzenie nowej administracji amerykańskiej. Demokraci będą bardziej stanowczy i dyskretni od administracji Trumpa i pani ambasador Georgette Mosbacher , która zapewne już niedługo powróci do USA. Żydowskie media liczą , że tą sprawę ruszy do przodu ich ziomek Douglas Emhoff – mąż wiceprezydent USA. To ich nowa gwiazda i nadzieja na "rozliczenie" Polski. Czy polski rząd się ugnie ? Mimo , że polskie prawo jest precyzyjne i mienie bezdziedziczne zawsze przechodzi do Skarbu Państwa , to prawnicy mogą "znależć" jakieś inne rozwiązanie. Tak , jak to administracja Obamy , Bidena i Hilary Clinton zrobiła w Szwajcarii z żydowskimi kontami bankowymi.
Trudne relacje.
W latach 90 , lewicowe rządy SLD i PSL we współpracy z Unią Wolności Geremka , porozumiały się organizacjami żydowskimi w USA i wypłacały Żydom wielką kasę , a Gazeta Wyborcza odwracała uwagę od tego tematu i podpuszczała Polaków przeciw zwrotom majątków kościelnych. Teraz może być podobnie. Ciekawe , czy Biden uzależni zostawienie wojsk amerykańskich w Polsce od respektowania nielegalnej ustawy 447 ? To bardzo możliwe. A może Biden naprawdę myśli , że Polska , podobnie jak Białoruś , to państwo totalitarne ? Będzie się działo. Rząd Zjednoczonej Prawicy będzie musiał podjąć bardzo trudne decyzje , nawet kosztem pogorszenia relacji z USA. Następne wybory prezydenckie w USA już za 4 lata. Trzeba to jakoś przeczekać….
Imigranci pomogą demokratom.
Administracja Bidena traktuje mniejszości imigracyjne jako potencjalny elektorat. Teraz zamierza uregulować , czyli zalegalizować status ponad 11 milionów nielegalnych imigrantów w USA. To ma zapewnić demokratom zwycięstwa w kolejnych wyborach.
Amerykańska Ustawa 447. Czy senator Tammy Baldwin i organizacje żydowskie chcą zniszczyć finansowo Polskę ?
© (MARB)