Nancy Pelosi to najbardziej wpływowa kobieta w USA. Jest przewodniczącą Izby Reprezentantów czyli jej Spikerem. To trzecia , po prezydencie i wiceprezydencie , osoba w Stanach Zjednoczonych. A więc to także jedna z trzech , obok wiceprezydent Kamali Harris i kanclerz Niemiec , najbardziej wpływowych kobiet na świecie. Od kilku lat "poluje" na prezydenta Trumpa ponieważ obsesyjnie go nienawidzi. Olbrzymia ilość komentarzy amerykańskich internautów pod tym artykułem świadczy o tym , jak wielkie emocje w USA wywołuje Nancy Pelosi.
Kim jest Pelosi ?
Pelosi ma 81 lat i włoskie pochodzenie. W lewicowej Partii Demokratycznej należy do skrajnie lewego skrzydła. Wręcz obsesyjnie wspiera radykalne organizacje lewicowe , neomarksistów , ruchy LGBT oraz prawo do aborcji. Nie znosi katolików. Jest przeciwna jakimkolwiek interwencjom i bazom wojsk USA na świecie. To nie najlepsza wiadomość dla bezpieczeństwa Polski . Antypolska ustawa 447 też jest w kręgu jej zainteresowań. Nawet bardzo.
"Polowanie" lewicy na prezydenta Trumpa.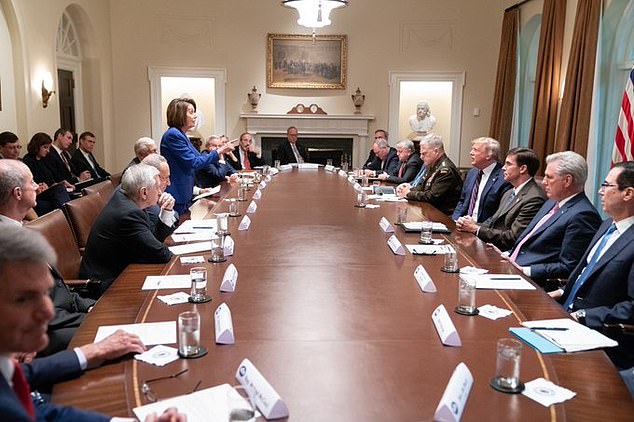 Pelosi maksymalnie osłabiła Trumpa przed wyborami prezydenckimi na jesieni 2020 roku. Lewicowa Partia Demokratyczna , z Pelosi na czele , przy pomocy swoich lewicowych mediów ( CNN , New York Times i Washington Post ) przypuściła zmasowany atak na Trumpa. Chciała jego odwołania z urzędu czyli impeachmentu. To była "brudna" i obrzydliwa kampania. Brakowało im tylko najważniejszego czyli dowodu , że Trump chciał przy pomocy Ukrainy znależć "haka" na Joe Bidena – kandydata demokratów na urząd prezydenta i przyjaciela Nancy Pelosi.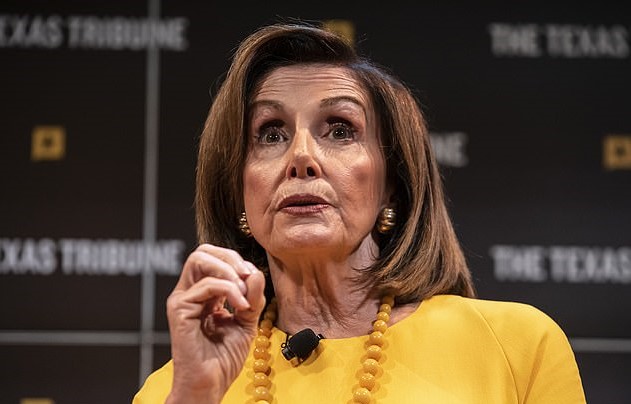 Przegłosowanie impeachmentu.
18 grudnia 2019 roku Izba Reprezentantów przegłosowała artykuły impeachmentu. Prezydent Donald Trump został postawiony w stan oskarżenia.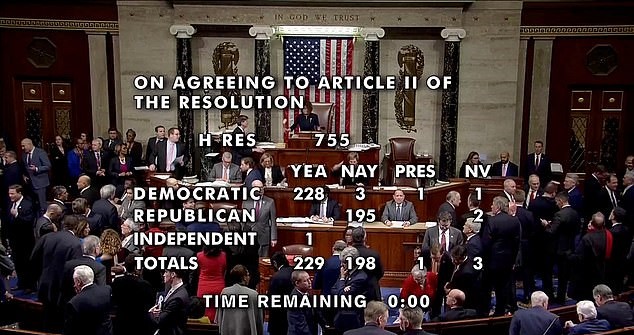 Jak widać z grafiki powyżej , wszystko odbyło się po linii partyjnej. Izbę Reprezentantów kontrolują demokraci więc wynik nie mógł być inny. Republikanie bronili prezydenta. Ich zdaniem , działania demokratów są motywowane nienawiścią wobec przywódcy USA. O usunięciu prezydenta z urzędu decydował Senat. Tu przewagę mieli republikanie co oznacza , że nie było szans na pozbawienie Trumpa urzędu. Demokraci nie przedstawili żadnych dowodów na winę Trumpa. Na tym skończyło się "brudne przedstawienie" reżyserowane przez Nancy Pelosi .
Pelosi poszła "na całość". Wszystko postawiła na jedną kartę , stosowała uderzenia poniżej pasa i opłaciło się to w listopadzie 2020 roku. Do tego doszła pandemia koronawirusa , zamieszki rasowe i gigantyczna przewaga medialna. Ma wielki udział w wygranych wyborach prezydenckich Bidena. Chociaż , tak naprawdę , ona jeszcze nie doszła do równowagi psychicznej po klęsce Hilary Clinton i demokratów w 2016 roku. Tą traumę psychiczną widać w jej działaniu.
https://asnews.pl/swiatnews/triumf-trumpa-impeachment-odrzucony/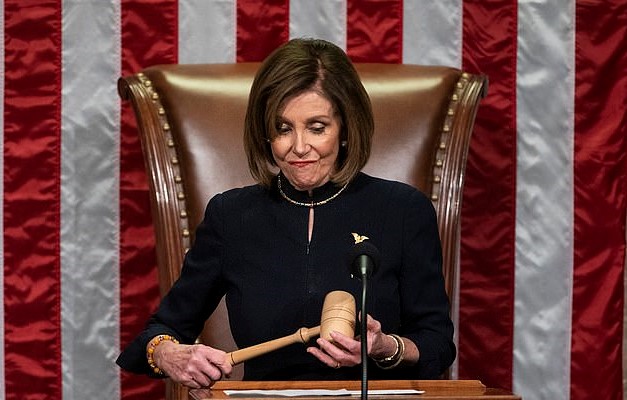 Jednak Biden wygrał wybory 2020 roku.
Jednak Joe Biden wygrał kontrowersyjne wybory prezydenckie 2020 roku w USA. Listowne głosowanie prawie 100 milionów Amerykanów , w większości na Bidena , budzi wiele zastrzeżeń co do ich uczciwości. Teraz Nancy Pelosi i nowa wiceprezydent Kamala Harris zostały najpotężniejszymi kobietami na świecie. Skrajne lewactwo przejęło władzę. Czy "podpalą" USA swoimi neomarksistowskimi pomysłami i doprowadzą do wojny domowej ? Obie nienawidzą katolików. Na dzisiaj są dwie Ameryki. Obie bardzo mocne. Największe media społecznościowe -Facebook i Twitter – oficjalnie poparły lewaków z Partii Demokratycznej. Wprowadziły cenzurę wpisów prezydenta Trumpa i sympatyków prawicy. Wzorują się na Związku Sowieckim.
Zamieszki na Kapitolu. 6 stycznia 2021 roku.
Lewackie sądy stanowe nie chcą rozpatrywać spraw o podejrzenie sfałszowania wyborów prezydenckich przez Partię Demokratyczną. Zdesperowani i bezradni republikańscy wyborcy Trumpa weszli siłą do Kapitolu. Policja strzelała do tłumu. Zginęło 5 osób. Na Trumpa głosowało 75 milionów Amerykanów. Większość z nich uważa , że wybory zostały sfałszowane przez lewicową Partię Demokratyczną. Oni nigdy nie zaakceptują wygranej Bidena oraz ideologicznych postulatów neomarksistowskich Pelosi i wiceprezydent Kamali Harris. Pelosi znowu szaleje. Chce upokorzyć Trumpa jeszcze przed końcem jego kadencji. Twitter i Facebook poszły na całość i zawiesiły konta Donalda Trumpa. Już nie udają obiektywizmu. Lewacka cenzura szaleje na całego. Ciężkie czasy czekają katolików w USA. Będzie się działo. Gra się dopiero zaczęła . W USA nie będzie już spokoju. Tam prawie wszyscy mają broń…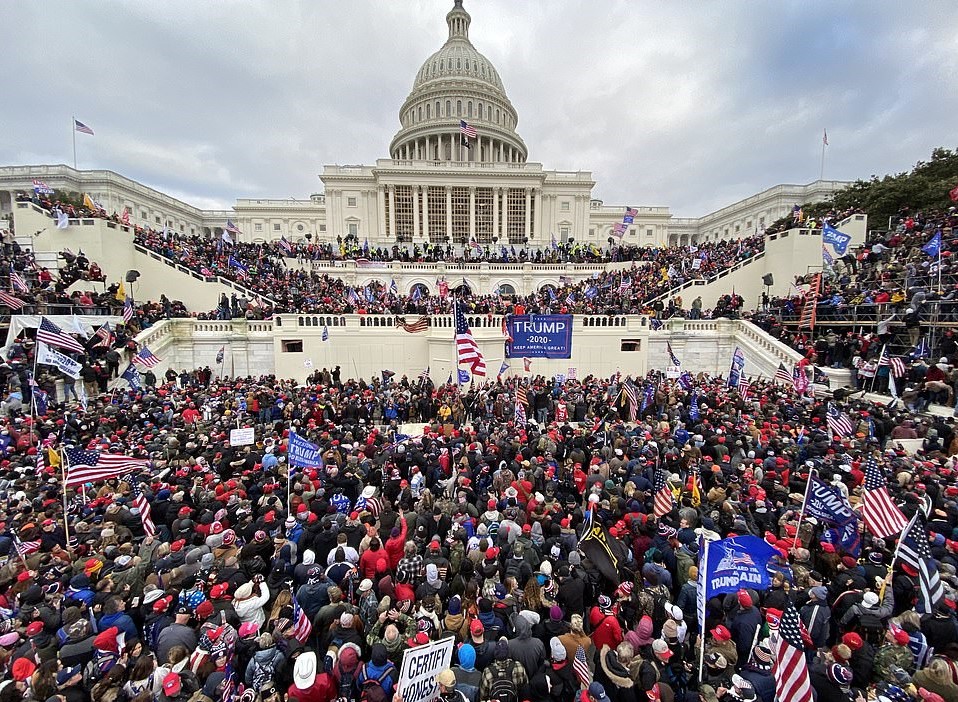 © ( MARB )